( Clyde's Great Grandfather )
---
George STALKER
Born:
Aug 7 1872, North Carolina
Died:
Sept. 16, 1963, Pike Co. KY [
Cemetery
]
Father:
John Thomas STALKER
Mother:
Matilda Adams
George married
Mary FARMER
Born:
October, 29, 1880
Died:
April 15, 1949 [
COD
] [
Cemetery
]
Father:
John A. Farmer
Mother:
Mary Mullins (Bryant)
George and Mary had the following children:
Frank STALKER
John STALKER b. ~ 1903, married Angeline BAILEY
Clarence STALKER of Draffin, KY
Lilburn STALKER b. ~ 1908 of Rockhouse, KY
Walter STALKER b. ~ 1911 of Salyersville, KY
Icy STALKER (Coleman)
Beunah STALKER (Swiney)
Alpha STALKER b. October 8, 1911; d. July 18, 1981, married Ver Compton of Draffin, KY
Rissie STALKER (Hogston), Belcher, KY
Lissie STALKER (Ratliff), Regina, KY
Tom STALKER
Harrison STALKER [COD]
Emily Jane STALKER (Owens) [COD]
Liza STALKER (Morton)
Bulie STALKER

Notes:
Pike County News Clippings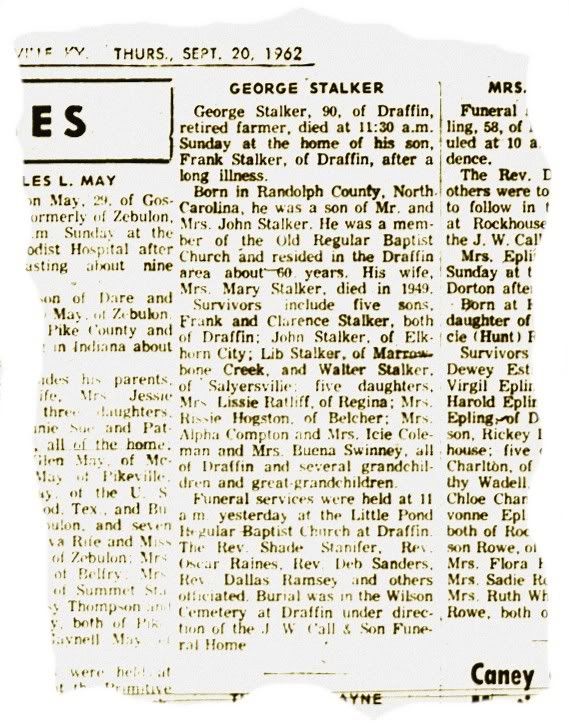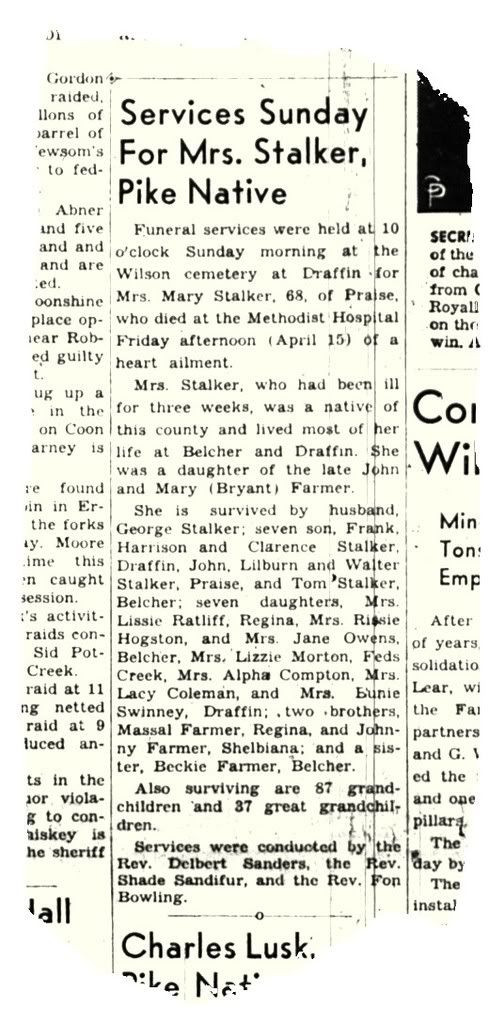 ---
If you have additional information or find a correction that needs to be made,
PLEASE LEAVE A COMMENT.