( Clyde's G-G-G-Grandfather )
---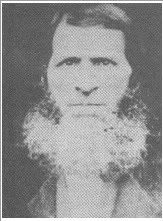 Marshall 'Big Foot' MULLINS
Born:  1822 in Pike County, KY
Died:   Sept. 10, 1875 in Lick Fork, Wise Co., VA
Father:  Sherwood Sr. (Sherd) MULLINS
Mother:  Mary Ann (Polly) ROBERTS

Marshall married
Mary (Polly) MULLINS
Born:   Feb. 8, 1829 in Franklin Co., VA
Died:    Dec. 14, 1902
Father:  Thomas 'Lonesome Tom' Mullins
Mother:  Nancy Bowles
---
Marshall and Mary had the following children:
Rebecca MULLINS b: ABT 1854 in VA

Wilson MULLINS b: 1856, died on May 14, 1892 in Pound Gap, Wise Co, VA.  Wilson was one of the victims of the Pound Gap Massacre.
Marshall married (2nd) Rebecca (Polly) VANOVER
Born:   1830 in Ashe Co., NC
Died:    about 1900
Father:  Daniel Vanover
Mother:  Nancy Collins
Marshall and Rebecca VANOVER had the following children:
Mary Polly (Pop) MULLINS b: JAN 1847 in Pike Co., KY., married John A. FARMER

Artie MULLINS b: 1848 in Russell Co., VA., married Preston Fleming.

Evaline MULLINS b: 14 JAN 1848 in Russell Co., VA

John D. MULLINS b: ABT 1850 in Russell Co., VA

Charlotte Agnes (Lottie) MULLINS b: 12 MAY 1851 in Russell Co., VA

Sarah Elizabeth MULLINS b: NOV 1853 in Pike Co., KY

Ollie MULLINS b: 8 AUG 1855 in Russell Co., VA

Marshall Jr. (Bud Bryant) MULLINS b: 1856 in Letcher Co., KY
Notes:
For additional information on the Pound Gap Massacre see:
The following is an excerpt from Nancy Wright Bayes - Our Wright Family Matters ..
It was on May 14, 1892, that one of the most horrible crimes of the area occurred. It was between nine and 10 o'clock in the morning when Ira began a trip to his home at Pound, Virginia. Heading a  group of eight people, he left the home of his brother-in-law, Wilson Mullins, who lived at the mouth of Cane Creek Branch, in Kentucky.  Wilson's eleven year old daughter Mindy started out on this trip, but was taken to her grandmother, Patsy (Potter) Mullins' house. She cried to go with them and Wilson stopped at a store, buying a can of peaches to soothe her. He opened the peaches and let her eat them and drink the juice. Wilson told Mindy to be a good girl and that they would be back soon. Mindy remained with her grandmother and this was the last time she saw her father alive.
Sources:
Ancestry Library World Family Tree Project - Denise Marie (Newman) Stapleton
---
If you have additional information or find a correction that needs to be made,
PLEASE LEAVE A COMMENT.